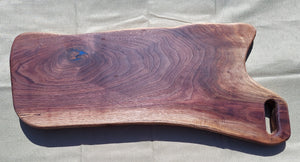 Crafted from uniquly grained and figured walnut,  this charcuterie board will add an elegant tough to your next dinner or event. 
Use it for charcuterie, anti-pata, bread, cheese, or even as a centerpiece for the table. The rich wood,, and deep hand-rubbed finish are timeless. 
The dimensions of this board are roughly 26 inches long by 10 inches wide and 1 inch thick.
A convenient handle has been carved into one end to make gripping, carrying or hanging a snap.
Naturally occurring cracks and voids on the serving surface have been sealed with a food safe epoxy. 
This charcuterie and serving board is sealed with three coats of food grade mineral oil to prevent the absorption of water or bacteria.
Hand wash with mild detergent and water.
Towel dry after washing. 
Scratches and cut marks can be lightly sanded if desired.
Recoat with food grade mineral oil or cutting board conditioner as needed. 
This product is not dishwasher safe.